Breakthrough Mentoring – creating lasting change
Breakthrough reaches out to care-experienced and other young people who have faced or are likely to face significant challenges in their lives.
Our charity supports young people S1 to S6 in Dundee and Arbroath secondary schools and provides aspirational mentorship and opportunity. By connecting, carefully selected and trained volunteer mentors as well as commercial and educational organisations with young people, Breakthrough aims to provide the guidance and opportunity that can transform lives and counteract the long-term effects of adverse experience.
By providing trained and committed mentors to work alongside our young people we hope to unlock the potential within and create lasting change.
Breakthrough Believes
Breakthrough believes that every young person, regardless of their background, social circumstances or personal challenges, should have the opportunity to achieve their full potential, the same life chances and the same fulfilment as their peers.
Want to be part of an amazing community that supports, engages and inspires our young people?  If so, we want to hear from you.
What we deliver to our young people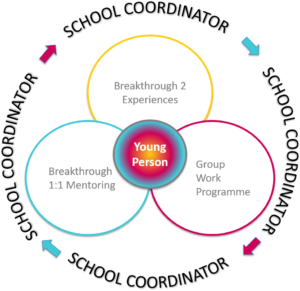 Young people sit at the very heart of Breakthrough and we deliver a range of programmes to support and develop their resilience, wellbeing, educational outcomes and future employment opportunities.  Young people S1-S2 can volunteer to take part in an interactive Group Work Programme that explores themes around self-awareness and self-development and an introduction to Breakthrough Mentoring.
In S3, young people are given the opportunity to be mentored by a carefully selected and trained adult volunteer who meets with them for 50 minutes each week in a 1:1 Mentoring relationship.  The mentoring takes places in-school and is scheduled in to the young persons timetable. Breakthrough Mentoring aims to empower and inspire our young people to achieve more and move forward into adulthood with confidence and independence. 
Young people S1-S6 can volunteer to participate in Breakthrough 2 Experiences. These are high quality, engaging and inspirational work-related and/or learning opportunities. They are young person led and open to all Breakthrough participants.
Support and inspiration
Breakthrough is funded in Dundee by the Northwood Charitable Trust and in Arbroath by Angus Council.  We are supported by DC Thomson, Angus Council and Dundee City Council.
Breakthrough have been inspired by MCR Pathways, a Glasgow charity who have developed over 10 years, a model of mentoring support that is impacting positively on hundreds of young people.