Thank you for making our Big Summer Breakout a great success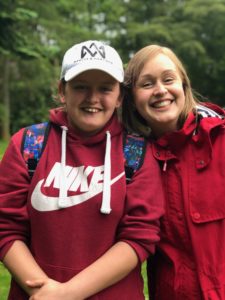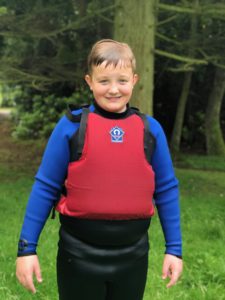 The 2019 Breakthrough Big Summer Breakout, a two-week programme of activities and fun ended on the 11th July 2019.  Our CEO Jenny Paterson reflects on the first ever summer event for Breakthrough young people and thanks the organisations and individuals who made 'Breakout' such a success.
Dear Dundee,
When I was growing up I was often reminded of the importance and simplicity of a 'thank you' and I've been thinking lately how we sometimes don't take enough time to do this – after all it costs nothing, but saying it can have such a positive impact on others.  At Breakthrough, we have recently had so much to be thankful for and I wanted to take the opportunity to say 'thank you' properly and publicly to those of you in Dundee who have gone above and beyond to support us.
My first vote of thanks is to the generous donors who made a contribution to our charity earlier in the year. My team and I agreed that since the long summer holidays can be a difficult time for some young people we would invest it in delivering a two week summer activity programme which became the first ever 'Breakthrough Big Summer Breakout'.  We're now at the other side of 'Breakout' and I'm delighted to say we made it. Not only was the weather largely very kind to us but almost 70 of our young people had the chance to try brilliant activities, take on new challenges and make friends from across the city.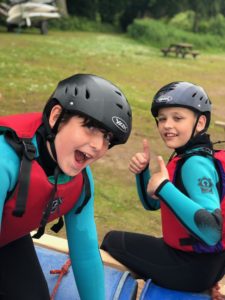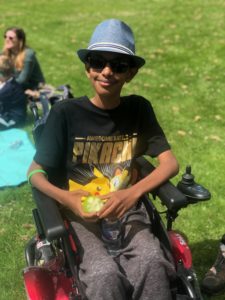 There are a number of people and organisations that we are incredibly grateful to and without whom it wouldn't have been such a success. Firstly to the Active Schools team at Leisure and Culture Dundee who organised pitch 'n' putt, lots of team building activities and emergency ice skating to avoid the rain (I still have the bruises to show from my 'efforts' on the ice). Thanks too goes to the team at Angus Cycle Hub who led mountain biking activities in Templeton Woods and also to the team at Monikie Country Park for the raft building and fun in the water. Our young people were amazing and it was an absolute pleasure to hang out with them and see them having fun. Thanks guys!
As you can imagine, it was hungry work and everyone was very well fed thanks to food donations from Dundee Bairns who provided packed lunches, the sausages came from FareShare Tayside and Fife, lots of burgers were supplied by Scott Brothers, rolls from Tesco Riverside and Bayne's Bakery, over 300 packets of crisps from Mackies and lots of sweet treats from Tunnocks.  Huge thanks also goes to local caterer Mark Bulle for sharing his expert barbecuing skills with us and the fact that we all now know what chafing gel is and it's not what you might think… Every young person also received a jam-packed goodie bag thanks to DC Thomson.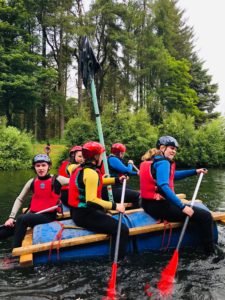 I must give a big shout out to Team Breakthrough, who were exceptional.  Each of us stepped out of our comfort zones at various points during 'Breakout' and whilst we were all completely knackered we were also really sad to see it come to an end. Needless to say, we're already thinking about how we can make it bigger and better next year!
Finally, we have over 100 volunteer mentors who continue to give their time every week to help make a difference to the lives of young people across Dundee and without them we wouldn't have a charity, it really is that simple. So, from the very bottom of my heart and on behalf of all the young people who have benefitted from your generosity, kindness and time, thank you.
Best wishes,
Jenny